Dross Evolution Collective Art Gallery,
Naas, Co Kildare
Dross Evolution Gallery had its official opening on Sunday 6th August 2017. officiated by TD James Lawless and Cllr. Rob Power. The gallery showcases works by 15 nationally and internationally recognised Artists and Designers from many disciplines. All art works are created from recycled and sustainable materials, from factory floor waste to found objects. Below you will find details of all Artists and Designers involved.
Martina Shannon
Dross Evolution is the vision and brain child of Artist and Designer Martina Shannon. She graduated from NCAD in 2016 with an Honours Bachelors Degree in Textiles, Art and Artefact. She is passionate about creating Art from waste materials in the form of factory floor waste. It has been a lifelong dream of hers to have a gallery that is filled with beautiful artworks created from materials that would otherwise end up in landfill. "I have always been an odd maker. As a child, I would lose myself in a world created from lollipop sticks, cereal packets, and fairy liquid bottles. This was a setting that I felt safe in and to a certain degree, still do." Martina is driven by the process and becomes completely enveloped in the making, working almost without thinking, and rarely having the end piece in mind. The raw material is her starting point. She will explore its boundaries, and use a wide variety of processes till she is happy with how the material looks. Then the making will begin and the installation will evolve in its own direction much like a plant does. The work grows through the process, and it can sprout, flower and creep in any direction. "I am influenced by the complex yet seemingly effortless structure of seeds and pods and the growth that emerges. If left alone, will spread and flourish over everything in its path with no order, no pattern, and no direction to its sprouting. It moves along lines that are not determined. My aspiration to reflect growth is a constant motivation, not only in the plant but in ourselves, never completely finished and always a work in progress. Like the seed, advancement comes from periods of darkness, struggle, and pain, smashed and broken beyond all recognition, but then, beauty comes." Martina specialises in creating site specific art works for companies using their factory floor, office or canteen waste. Her unique range of wearable art pieces made from CD's are extremely popular. She also has a passion for teaching children art using re-cycled materialsthrough her RE-ME summer camps and workshops.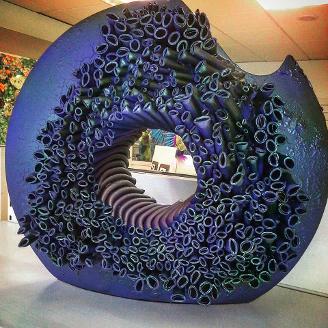 Nicola Brown
Three words describe Nicola Brown's work, simple, natural, crafted. Since her introduction to feltmaking in 2007 she has studied extensively in Ireland, Europe and the US to learn new techniques and develop her fine art textile practice. As a mature student Nicola chose not to go down the traditional art college route but decided to attend technique specific workshops, masterclasses and symposia with international tutors whose work she admired. This is an ongoing process. Her current practice revolves around the use of eco printing, a simple but exciting technique where natural fabric is wrapped with leaves, onion skins, and hedgerow vegetation. These bundles are tied up tightly then boiled in well water to help extract colour and prints directly from the organic matter. In addition to regularly exhibiting in group shows Nicola staged 'Seascapes', her first solo show during the 2011 Kilkenny Arts Festival. This was followed in 2016 with another solo show, 'From Perennial to Print'. Nicola regularly delivers hands on workshops in Ireland, Northern Ireland, the US, Canada, Portugal and Australia. In September 2016 she launched a suite of online felting and eco printing workshops. Eco printed up-cycled clothing forms her collection for the Dross Evolution Gallery.
Jean Lowndes
Jean is an Irish Artist based in North County Dublin and works from her studio at home. She is inspired by nature and all things spiritual. She has a passion for Angels and loves to paint them using her pallette knife technique and uses found objects in her work. She has recently started to create unique wall sculptures using a variety of recycled materials . She took up painting in 1996 after a bad fall which led to multiple back surgeries and found the process very helpful to her recovery. She loves the creative process and before she started to paint was involved in many craft activities including baking, cross stitch, patchwork and wine making. She was a member of a ICA group for many years and learned many skill from the fabulous teachers in the group. Jeans work is extremely popular and she regularly exhibits in The Peoples Art Exhibition in Stephens Green, Merrion Square, Art Source in the RDS, The Red Stables in Clontarf, Kilkenny Arts Festival and Galway Arts Festival.
Monika McDonnell
The Mopompo brand was created by Polish-born, Ireland-based Monika McDonnell. Monika creates hand-painted furniture, combining art and function to produce striking 3D canvasses. The concept of functional art gives Monika's creations a unique character. Shape and finish constrain the nature of image that can be realised. A 3D canvas is both inspiring and challenging and engages on both aesthetic and symbolic level. Her initial experiments in this medium consisted of applying designs in acrylic paint to unfinished items, resulting in vibrant, symbolic pieces inspired by nature, animals, space, politics and exploitation. Monika progressed to designing bespoke furniture pieces. These are hand-crafted by a carpenter, then decorated by Monika with charcoal, pastels or acrylics and layers of varnish. Each Mopompo piece is a one-off in terms of form, imagery and the message it carries. Raising awareness about endangered wildlife, animal rights, environmental crisis, social injustice and exploitation in different areas of the world is the most important aspect of Monika's work. All of her pieces encourage critical engagement with some of the biggest problems that confront us today, such as ethics, equality, pollution and climate change. In keeping with this spirit, all new furniture items are made from recycled wood while other pieces start off as old, dull and unwanted but are given new life and meaning during up-cycling and hand-decoration. To own a Mopompo piece is to invest in a message for a better and more ethical future, one where humanity thrives instead of heading for extinction through its own follies. Be part of that future - help Mopompo raise awareness through a medium that unites us all, the medium of art!
Donnchadha O'Connor
At 20 years of age, Donnchadha O'Connor has already developed a strong reputation amongst his wood turning peers in County Kerry on the South Western edge of Ireland's Atlantic coastline. From his home in the Moyvane area of North Kerry, Donnchadha produces unique and beautiful hand turned pens, pocket watches and memory boxes. These items are all individually made by hand, so that each piece produced is a unique, one of a kind example of his craft. Donnchadha does not fell or buy commercially felled timber. All of the timber he uses is salvaged from wind-fallen trees or those which have had to be cut back or felled by local farmers, golf clubs etc. Donnchadha was most strongly influenced by his grandfather, also an accomplished woodworker, who passed away in 2014 at the age of 89. Donnchadha learned the craft of wood working from a very early age at his grandfather's side, and was highly skilled in the craft by age 15. On leaving second level school, Donnchadha began a degree course in woodwork education and hopes to graduate in 2017. Donnchadha is a member of the Original Kerry craft makers guild, which maintains a high entry standard for quality craft makers in Kerry and is also a member of the Irish wood turners guild. His work has appeared on the front page of the Wood turners guild magazine and he has given a demonstration of specialist wood turning skills at their national convention in Killarney, Co. Kerry in October 2012. He has won a number of wood turning competitions, including placing second in a national competition and he has presented his work to the president of Ireland, Dr. Michael D. Higgins and his wife, Sabina.
Karen Pleass- Swinky Doo

Textile artist Karen Pleass uses fabrics to tell stories and make memories. The inherent history of the recycled materials, such as a favourite wool jumper that shrunk in the wash, an old tweed jacket, torn denim jeans, or a treasured broken bead necklace, all add an extra layer to the to the story that is woven into each piece of textile art. Karen is enchanted by the ever changing palette of colours and the tactile richness that the Irish landscapes and seascapes have to offer and much of her work is inspired by nature and the countryside that surrounds her home in County Kerry. Her work is a mix of recycled fabrics, natural fibres, layers of textured fabrics, Irish tweeds and felted wools. She find these textiles are perfect for creating a strong sense of the textures and tones of the surrounding landscapes. She combines hand and machine stitching, raw edge applique, felting, beadwork and embroidery, ensuring that each individual creation is completely unique. Karen also creates commissioned pieces for any occasion.
Miriam Fitzgerald Juskova
Originally from Slovakia, Miriam has been living in Ireland almost 15 years. She has a degree in Industrial Furniture Design, but her passion for art never left her. About 2 years ago she came across paper technique called paper quilling and instantly fell in love with creating 3D pieces from paper by curling, twisting and folding. She says "The more I experiment, the more possibilities opens to me. With every new piece, I feel like I discover another level of what paper can do and how it helps me to express my view on different things around us" Her passion are mandalas and is excited about discovering beauty of geometry, especially sacred geometry, and the art of mathematics. From a very young age she would spend hours with her desk ruler and calculator sketching ideas. She loves to experiment with colours and shapes, she says "this helps me to express my feelings and moods" A huge amount of work goes into each piece and can take many hours to complete but she enjoys the process of creating, she says "the work is my meditation where I can escape and let my thoughts come through spontaneously with paper. The technique she uses is known as Paper on Edge, she says, "I believe that this technique is so powerful and innovative and very expressional and helps me to express my love and respect for geometry".
Emma Allen
Emma Allen of Treats and Trinkets creates bespoke handmade jewellery and accessories for all occasions. Based in Spiddal Co. Galway, Emma has been creating beautiful unique pieces for almost 15 years.
Specialising in bridal accessories Emma will take time and consideration over every piece she creates. Using high quality materials she will create something magical for your big day. She can also incorporate your something old, something new, something borrowed and something blue into your headpiece.
Emma also creates jewellery for other occasions such as the Galway Races and first holy communion and has even been commissioned to make festival wear.
Emma often trails the vintage fairs and antique shops for trinkets to add to her creations and is always looking to bring something old back to life.
Emer Giblin
Emer Giblin is a textile artist and designer. She studied Textiles Art & Artefact at the National College of Art and Design and graduated last year with a Bachelors of Arts Honours Degree. She takes inspiration from plant structures in her creation of unique wearable art such as jewellery and body adornment pieces, she also makes larger wall art pieces. She explores a combination of representational and geometric plant form structures as inspiration for these pieces. The colours Emer mainly utilised are vibrant and eye catching neon yellow, scarlet red, blue and black. Plastics have been her material of choice for the creation of these works, she enjoys the challenge of customising mass produced plastic items through dyeing, cutting up and manipulating through knotting and coiling techniques. Working with materials which would otherwise be discarded as rubbish allows Emer to explore her interest in materiality. She enjoys altering waste materials and giving them a purpose by adapting them to create objects of new value. There is a tension and contradiction in using plastic materials considered to be pollutants to create of plant structures which possess a fragility, uniqueness and delicacy which Emer likes to exploit. To see more of Emer's work come along to the Dross Evolution Gallery and follow her making and inspiration on Instagram @emergiblin.
Liga Valge
Liga Valge is the designer maker behind Valg Studio. She first began working with polymer clay in 2011, quickly becoming fascinated by the possibilities that this versatile medium had to offer. Since then she has continued to participate in workshops by renowned international polymer clay artists as she continues to explore new ideas and making techniques. Liga is based in the South East of Ireland where each piece is designed and made by hand. ''Bright colours, communicative simplicity and fascinating possibilities continue to excite me when working with polymer clay. Each time I begin to condition the clay I feel joy and the desire to reach for new ideas. The inspiration for my work comes from many sources, but can be found primarily in the observation of small details within my immediate environment, my creative process and internal experiences. Throughout the making process, I continue to explore and respond to the subtle possibilities that exist when working with this type of modelling clay''. Liga Valge is a member of the Design and Crafts Council of Ireland and the International Polymer Clay Association.
Rachel McDermott
Rachel has lived at the foot of the dublin mountians most of her life. She began upcycling furniture in 2013 as a way to help heal the pain of losing her only child Katie in 2008 after a long illness. She quickly realised she had a passion for furniture art and upcycling, and began to paint colour where the pain was. Rachel uses the process of restoring old furniture into art pieces as a healing therapy and feels that her daughter is with her as she works. She finds most of her furniture by hunting around second hand shops, house clearances and auctions around the country. Each peice is unique and hand painted using the knoweledge she has gained through the many classes she has taken around the country that specialise in the art of furniture painting. "I believe my daughter is the driving force behind all my creativity and she unlocked my cage as she left this world"
Patricia Stacke-Kelly
Playing with materials and paint have been the building blocks of Patricia Stacke-Kelly's art development since childhood. Her art practice has always involved pushing boundaries with materials. She is passionate about the process of transforming waste materials, found objects, organic materials and paint into a language which is visceral, visual, tactile and evokes questions. In the process of transformation, the materials take on new meaning; they hover on the edges of liminal space allowing themselves to suggest new possibilities. Life, death, decay, regeneration, social exclusion and the human condition are recurring themes which inform her work. Her artistic influences are numerous including Anslem Kiefer, Louis Bourgois and Anthony Tapies. Having graduated in Fine Art/painting from Dublin Institute of Technology in 1996 she continued her studies at the Crawford College of Art in Cork qualifying as an Art Therapist. She runs an Art Therapy practice at her studio in Kildare as well as teaching and facilitating workshops. She has exhibited in group and solo exhibitions in Ireland and her work is in private and corporate collections nationally and internationally.
Sinead Giblin
Sinead Giblin is a milliner and artist from South County Dublin. Having grown up beside the sea, she is heavily influenced by it, along with her reverence for bygone times and antiques. Sinead works with bold colour combined with unusual elements and materials in her work, enjoying intertwining the stories of old in a new way. Her distinctive style can be recognised by found objects, antique brass, vintage clockworks, Victorian lace, and clean lines. Millinery and wearable art is her central focus but she is always exploring new mediums and challenges to expand her mind in new and interesting directions.
Carmen Garcia
A love for hats and a concern about the impact the fashion industry has both on the environment and on people's lives are at the core of Carmen Garcia Design. Carmen grew up in Spain, in a family where previous generations of women were extremely skillful textile artists. Dress making, embroidery, lace, crochet, knitting were their specialities. She has always liked making things and has tried other disciplines -like jewellery making-before deciding that hat making was "her thing". First, as a hobby, and then as her new venture, when she decided to attend the Grafton Academy and become a milliner. Both a milliner and feltmaker, she uses sustainable and ethically sourced materials in her hatmaking; natural fibers, fair-trade, and upcycled. She also applies a policy of no waste to the process. She is interested in what the Tibetans call Shul: a mark that remains after that which made it has passed by. Hence #treadingsoftly is her tagline, conscious of the mark we humans leave on the planet.
Kirsten Hodgeson

have had a love of textiles, inspired from an early age with my Mother teaching me how to sew. This has reinforced my passion for exploring family connections through the use of the threads that are woven through my own life. The learning and forming of relationships that is embodied in the tradition of skills passed on through family are important as they inform the aspects of nature and nurture that run consistently through my work. My practice is particularly informed by the theme of memory. Kirsten has recently graduated from NCAD in Dublin with a Batchelor of Fine Art Degree in Textiles with Honours. Follow Kirsten on Instagram- kirsten_hodgson_textile_artist Email- kirstenhodgson74@gmail.com